Vrinda Singh Chauhan
The wholesale market of Sarcasm
Updated: Oct 4, 2018
Just because I enjoy writing blogs, doesn't mean I will do it for free. No Really! I am kidding.Seems like I am speaking a fluent sarcasm. Isn't it? I suppose every one of us has a PhD, without degree in Sarcasm. And the one who doesn't understand sarcasm is considered the most flickering tube-light of 21st century.
Does sarcasm evolve in the catacombs of contempt or debt of conflict? or It is a magical crown which can highlight the bearer emotion in the most creative way. Sarcasm is a jumbled form of verbal irony which contains a trio tinch of gravitational humor, discontent and scorn. A jug full of sarcasm, handpicked from the pools of sarcastic world is overflowing to help you swim the old places of your life.
The common sarcastic couple-love.
Ahh! Alright couples, you can call me stupid on that sarcasm.
The sarcastic dating-couple.
That's how we know, Why sometimes men are also called stupid?
The sarcastic break-up sarcasm.
Ya, Ya, I know all you wish to say now is-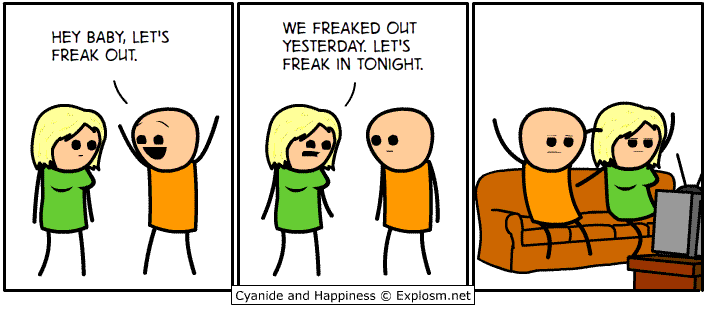 The sarcastic freak-in and freak-out friends.
Well this definition of love will really freak you out.
The sarcastic insult on show-offs.
Don't really try being sarcastic on your existence, it might be fatal.
Sarcasm can really be fatal, if not spiced up with the right person. Although, sarcasm is one of the favorite outfit of creativity, still creativity makes sure that such attires are carried amongst the knowns only. The sweet remarks at time can overwhelm but the salty ones can offend someone. So, choose your occasions wisely and celebrate sarcasm with your loved ones only. Otherwise, alcohol too is another outfit of creativity which relaxes the mind with its focus reduction algorithm. :P
The legacy of sarcasm will flourish in the years to come and the best example of it's glory in 21st century is "Sartalics". Since, the world went digital, so the sarcasm. Today, to express or convey sarcasm online, all you need to do is follow the new script known as, "Sartalics". The new online script is a startling innovation of Mr. Nathanhoang. "Sartalics" with it's special left italic inclination, gives you the freedom of condemning either a living or a non-living thing online on any social media platform, without being penalized in any way. The best way of killing the snake without breaking the stick.
Totally Sarcastic! Isn't it?